Self-assessment: Questioning my classroom practice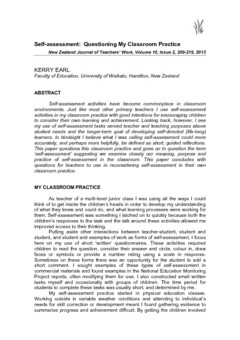 Citation
Earl, K. (2013). Self-assessment: Questioning my classroom practice. New Zealand Journal of Teachers' Work, 10(2), 209–219.
Abstract
Self-assessment activities have become commonplace in classroom environments. Just like most other primary teachers I use self-assessment activities in my classroom practice with good intentions for encouraging children to consider their own learning and achievement. Looking back, however, I see my use of self-assessment tasks served teacher and teaching purposes above student needs and the longer-term goal of developing self-directed (life-long) learners. In hindsight I believe what I was calling self-assessment could more accurately, and perhaps more helpfully, be defined as short, guided reflections. This paper questions this classroom practice and goes on to question the term 'self-assessment' suggesting we examine closely our meaning, purpose and practice of self-assessment in the classroom. This paper concludes with questions for teachers to use in reconsidering self-assessment in their own classroom practice.
Date
2013
Type
Publisher
Massey University
Rights
This article has been published in the journal: New Zealand Journal of Teachers' Work. Used with permission.