The enowning of thought and whakapapa: Heidegger's fourfold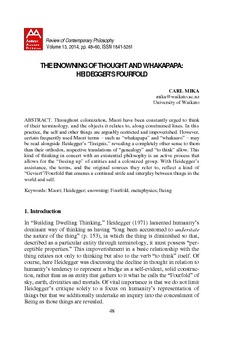 Citation
Mika, C. T. H. (2014). The enowning of thought and whakapapa: Heidegger's fourfold. Review of Contemporary Philosophy, 13, 48–60.
Abstract
Throughout colonization, Maori have been constantly urged to think of their terminology, and the objects it relates to, along constrained lines. In this practice, the self and other things are arguably restricted and impoverished. However, certain frequently used Maori terms – such as "whakapapa" and "whakaaro" – may be read alongside Heidegger's "Ereignis," revealing a completely other sense to them than their orthodox, respective translations of "genealogy" and "to think" allow. This kind of thinking in concert with an existential philosophy is an active process that allows for the "freeing up" of entities and a colonized group. With Heidegger's assistance, the terms, and the original sources they refer to, reflect a kind of "Geviert"/Fourfold that ensures a continual strife and interplay between things in the world and self.
Date
2014
Type
Publisher
Addleton Academic Publishers
Rights
This article has been published in the journal: Review of Contemporary Philosophy. © Addleton Academic Publishers. Used with permission.