Further nomenclature and chemical notes on Pseudocyphellaria in New Zealand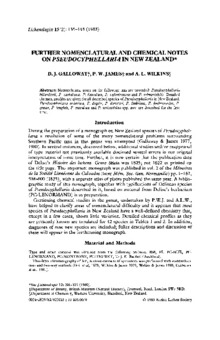 Citation
Galloway, D. J., James, P. W., & Wilkins, A. L. (1983). Further nomenclature and chemical notes on Pseudocyphellaria in New Zealand. The Lichenologist, 15(02), 135-145.
Abstract
Nomenclatural notes on the following taxa are provided: Pseudocyphellaria billardierii, P. carpoloma, P. faveolata, P. rufovirescens and P. subvariabilis. Detailed chemical profiles are given for all described species of Pseudocyphellaria in New Zealand. Pseudocyphellaria ardesiaca, P. degelii, P. durietzii, P. fimbriata, P. fimbriatoides, P. gretae, P. knightii, P. maculata and P. sericeofulva spp. nov. are described for the first time.
Date
1983
Type
Rights
This article is published in the journal, The Lichenologist. Copyright © British Lichen Society 1983.
Collections