Shifting realities: Immigrant teacher transitions into early childhood settings in Aotearoa New Zealand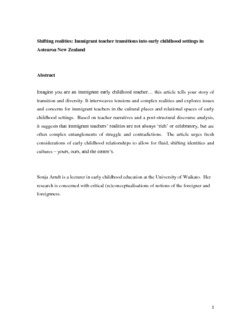 Citation
Arndt, S. (2014). Shifting realities: Immigrant teacher transitions into early childhood settings in Aotearoa New Zealand. Early Childhood Folio, 18(2), 28–32.
Abstract
Imagine you are an immigrant early childhood teacher… this article tells your story of transition and diversity. It interweaves tensions and complex realities and explores issues and concerns for immigrant teachers in the cultural places and relational spaces of early childhood settings. Based on teacher narratives and a post-structural discourse analysis, it suggests that immigrant teachers' realities are not always 'rich' or celebratory, but are often complex entanglements of struggle and contradictions. The article urges fresh considerations of early childhood relationships to allow for fluid, shifting identities and cultures – yours, ours, and the centre's.
Date
2014
Type
Publisher
New Zealand Council for Educational Research
Rights
This is an authors accepted version of an article published in the journal: Early Childhood Folio. © 2014 NZCER Press. Used with permission.