Pontius Pilate and the Imperial Cult in Roman Judaea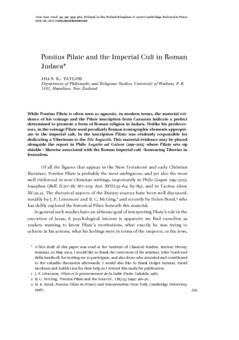 Citation
Taylor, J. E. (2006). Pontius Pilate and the Imperial Cult in Roman Judaea. New Testament Studies, 52(04), 555-582.
Abstract
While Pontius Pilate is often seen as agnostic, in modern terms, the material evidence of his coinage and the Pilate inscription from Caesarea indicate a prefect determined to promote a form of Roman religion in Judaea. Unlike his predecessors, in the coinage Pilate used peculiarly Roman iconographic elements appropriate to the imperial cult. In the inscription Pilate was evidently responsible for dedicating a Tiberieum to the Dis Augustis. This material evidence may be placed alongside the report in Philo Legatio ad Gaium (299–305) where Pilate sets up shields – likewise associated with the Roman imperial cult –honouring Tiberius in Jerusalem.
Date
2006
Publisher
Cambridge University Press
Rights
This article is published in the journal, New Testament Studies. Copyright © 2006 Cambridge University Press.
Collections