Military operations and the right to life: the uneasy bedfellows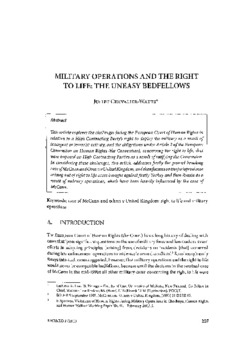 Citation
Chevalier-Watts, J. (2011). Military operations and the right to life: the uneasy bedfellows. Human Rights and International Legal Discourse, 5(2), 207–232.
Abstract
This article explores the challenges facing the European Court of Human Rights in relation to a High Contracting Party's right to deploy the military as a resull of insurgent or terrorist activity, and the obligations under Article 2 of the European Convention on Human Rights (the Convention), concerning the right to life, that were imposed on High Contracting Parties as a result of ratifying the Convention. In considering these challenges, this article addresses firstly the ground-breaking case of McCann and Others v United Kingdom, and then focuses on the jurisprudence arising out of right to life cases brought against firstly Turkey and then Russia as a result of military operations, which have been heavily influenced by the case of McCann.
Date
2011
Type
Rights
© 2011 Intersentia. Used with permission.