'I demand an undying devotion to the play': Rosencrantz and Guildenstern are Undead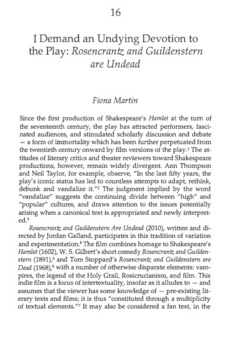 Citation
Martin, F. (2011). 'I demand an undying devotion to the play': Rosencrantz and Guildenstern are Undead. In G. Schott & K. Moffat (Eds.), Fanpires: Audience Consumption of the Modern Vampire (pp. 275–289). Washington DC, United States: New Academia Publishing.
Abstract
Since the first production of Shakespeare's Hamlet at the tum of the seventeenth century, the play has attracted performers, fascinated audiences, and stimulated scholarly discussion and debate - a form of immortality which has been further perpetuated from the twentieth century onward by film versions of the play.¹ The attitudes of literary critics and theater reviewers toward Shakespeare productions, however, remain widely divergent. Ann Thompson and Neil Taylor, for example, observe, "In the last fifty years, the play' s iconic status has led to countless attempts to adapt, rethink, debunk and vandalize it."² The judgment implied by the word "vandalize" suggests the continuing divide between "high" and "popular" cultures, and draws attention to the issues potentially arising when a canonical text is appropriated and newly interpreted.³
Date
2011
Type
Publisher
New Academia Publishing
Rights
© 2011 Gareth Schott and Kirstine Moffat. Used with permission.
Collections