The Te Aroha goldfield is revealed to be a duffer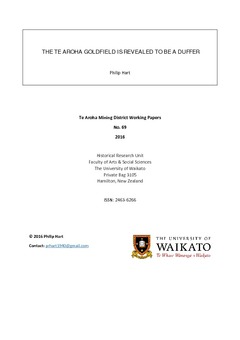 Hart, P. (2016). The Te Aroha goldfield is revealed to be a duffer. (Te Aroha Mining District Working papers, No. 69). Hamilton, New Zealand: University of Waikato, Historical Research Unit.
Abstract
The consequence of the murder of a Maori miner was the immediate abandonment of the Tui mines, but as the year progressed fields elsewhere came to the fore and Te Aroha was disparaged as a disappointment. As previously, unskilled miners combined with a lack of capital handicapped the field, and as attempts to find a payable main reef failed, mining declined and miners departed for better prospects. No discoveries of any significance were made in any claim, and once the battery commenced work it quickly proved the poverty of the ore. And all hopes of finding alluvial ore were illusory. Some claimholders remained hopeful, even spending their own money to make a road to get ore from the mountainside to the flat because the county council had not made one, and the Waikato Times correspondent's optimism remained boundless. Overall, insufficient development was done to prove the value of the field, and as prospecting faded and capital was not attracted mining had to cease, with companies collapsing and unworked ground being forfeited. By late 1881, the field was dismissed as being a duffer.
Date
2016
Type
Publisher
Historical Research Unit, University of Waikato
Rights
© 2016 Philip Hart
Collections