Charles Manuel: a miner and farmer in the Te Aroha district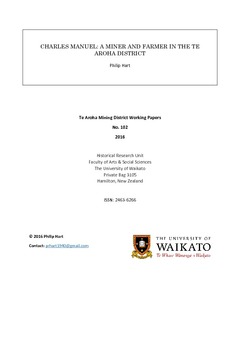 Hart, P. (2016). Charles Manuel: a miner and farmer in the Te Aroha district. (Te Aroha Mining District Working papers, No. 102). Hamilton, New Zealand: University of Waikato, Historical Research Unit.
Abstract
Born in Cornwall, Charles Manuel claimed to have mined from an early age. From 1876 onwards he mined at and near Thames, one notably experience being 'gassed' during a rescue attempt in the Caledonian mine. Although from the 1880s and until the end of his life he also farmed and took up a variety of contracts, he never abandoned mining, becoming a mine manager in 1896 and working on several Hauraki fields into the early twentieth century. To defend his interests in one mine, he threatened rivals with a revolver. His brother-in-law, William Deeble, was associated with him in various activities, notably on the Thames County Council, where they were a disruptive element. In 1900 he became a farmer in the Piako district, and in 1908 became involved in Waiorongomai mining, obtaining claims and being a director of the Bendigo and Seddon companies. A colleague in these mining ventures was John Endean, along with his wife and son. As a member of the Piako County Council he worked hard for the community, as usual, but also as usual was pugnacious and difficult to work with. In politics, also, he always spoke his mind. A hard worker in his private affairs and public issues, he was successful financially.
Date
2016
Type
Publisher
Historical Research Unit, University of Waikato
Rights
© 2016 Philip Hart
Collections