James Mills: a carpenter who became Te Aroha's first mayor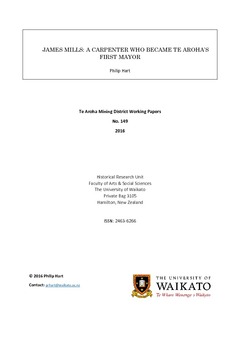 Hart, P. (2016). James Mills: a carpenter who became Te Aroha's first mayor. (Te Aroha Mining District Working papers, No. 149). Hamilton, New Zealand: University of Waikato, Historical Research Unit.
Abstract
After being active in Liberal politics in England, James Mills, a carpenter, settled in Te Aroha in 1882. Although he constructed many houses, work was erratic and he never became wealthy. Investing in Waiorongomai mining, he was outspoken in criticizing the management of the tramway and the policies of the Battery Company, accusing them of ruining the field through their high charges. He also criticized the county council for providing insufficient aid for mining, and sought financial assistance from the government. He assisted to form prospecting parties, and was especially involved in mining during the boom of the 1890s, with the usual unrealistic expectations. In 1899, as these expectations had not been attained, he ceased investing in mining. For over 20 years Mills worked hard to benefit the district in every possible way, joining many committees, in particular the domain board, the county council, the town board, and the borough council. Having strong opinions, strongly expressed, his involvement resulted in many rows and strong criticism from those he opposed. He was not beyond misrepresenting those he quarrelled with, especially when he was trying, eventually unsuccessfully, to include Waiorongomai in a proposed borough. After becoming the first mayor of Te Aroha by the smallest of margins, he achieved much for the town. In national politics, as a strong supporter of the Liberal Party he attempted to overcome local apathy about politics and squabbled with those holding different opinions. His quarrelsome personality may have been, at least in part, caused by ill health. In his old age he was respected for his achievements, if not loved for his personality.
Date
2016
Type
Publisher
Historical Research Unit, University of Waikato
Rights
© 2016 Philip Hart
Collections