Living standards, well-being, and public policy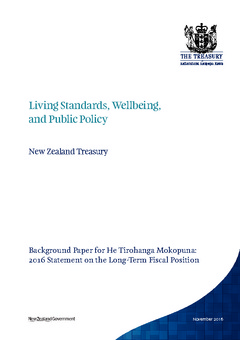 Weijers, D. M., & Mukherjee, U. (2016). Living standards, well-being, and public policy (Report). Wellington, New Zealand: The New Zealand Treasury.
Abstract
It has been five years since the publication of the Treasury paper that first set out its Living Standards Framework (LSF) (Treasury 2011). Since then, the LSF has become an increasingly central part of Treasury's strategic direction. Treasury is now explicit about its aspiration to be "working towards higher living standards for New Zealanders" (Treasury 2015a), and the LSF itself has been used across a wide range of Treasury's policy advising work (Treasury 2015c). But after five years of implementation and development, there remain questions about what exactly the LSF is and how it ought to, or could be, used by Treasury. The aim of this paper is to provide answers to these sorts of questions. It is intended as an update of Treasury's 2011 paper, drawing on the rapid developments in the academic and policy literature on wellbeing in the last five years. We argue that the LSF can be understood as a wellbeing framework that articulates, justifies and helps enable the provision of comprehensive economic policy advice that improves wellbeing. The remainder of this introduction clarifies the main claims we will be advancing in this paper.
Date
2016
Type
Publisher
The New Zealand Treasury
Rights
Background Paper for He Tirohanga Mokopuna: 2016 Statement on the Long-Term Fiscal Position. Published by The New Zealand Treasury. Used with permission.
Collections