Corrections to Compact Nonlinear Model of an Implantable Electrode Array for Spinal Cord Stimulation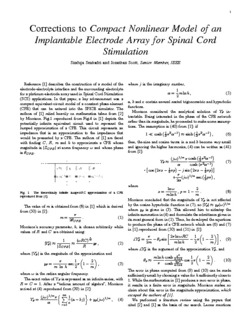 Scott, J. B., & Seshadri, S. (2018). Corrections to Compact Nonlinear Model of an Implantable Electrode Array for Spinal Cord Stimulation. IEEE Transactions on Biomedical Circuits and Systems, PP(99). https://doi.org/10.1109/TBCAS.2018.2833481
Abstract
Reference [1] describes the construction of a model of the electrode-electrolyte interface and the surrounding electrolyte for a platinum-electrode array used in Spinal Cord Stimulation (SCS) applications. In that paper, a key advancement was a compact equivalent-circuit model of a constant phase element (CPE) that can be entered into the SPICE simulator. The authors of [1] relied heavily on mathematics taken from [2] by Morrison. While the mathematics in [2] produces a zero error in phase, it results in a finite error in magnitude. Morrison makes no claim about this error in the magnitude approximation, which escaped the authors of [1]. Morrison does not explain how he arrived at (18), and (19) proves to be incorrect.
Date
2018
Type
Publisher
Institute of Electrical and Electronics Engineers
Rights
This is an author's accepted version of an article published in the journal: IEEE Transactions on Biomedical Circuits and Systems. © 2018 IEEE. Personal use of this material is permitted. However, permission to reprint/republish this material for advertising or promotional purposes or for creating new collective works for resale or redistribution to servers or lists, or to reuse any copyrighted component of this work in other works must be obtained from the IEEE.
Collections