The social work professionalisation project before the 1990s in Aotearoa New Zealand: The dream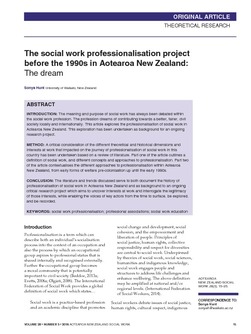 Hunt, S. (2016). The social work professionalisation project before the 1990s in Aotearoa New Zealand: The dream. Aotearoa New Zealand Social Work, 28(3), 15–25. https://doi.org/10.11157/anzswj-vol28iss3id245
Abstract
INTRODUCTION: The meaning and purpose of social work has always been debated within the social work profession. The profession dreams of contributing towards a better, fairer, civil society locally and internationally. This article explores the professionalisation of social work in Aotearoa New Zealand. This exploration has been undertaken as background for an ongoing research project. METHOD: A critical consideration of the different theoretical and historical dimensions and interests at work that impacted on the journey of professionalisation of social work in this country has been undertaken based on a review of literature. Part one of the article outlines a definition of social work, and different concepts and approaches to professionalisation. Part two of the article contextualises the different approaches to professionalisation within Aotearoa New Zealand, from early forms of welfare pre-colonisation up until the early 1990s. CONCLUSION: The literature and trends discussed serve to both document the history of professionalisation of social work in Aotearoa New Zealand and as background to an ongoing critical research project which aims to uncover interests at work and interrogate the legitimacy of those interests, while enabling the voices of key actors from the time to surface, be explored, and be recorded.
Date
2016
Type
Publisher
Aotearoa New Zealand Association of Social Workers
Rights
This work is licensed under a Creative Commons Attribution 4.0 International License.
Collections