Diversity and the early years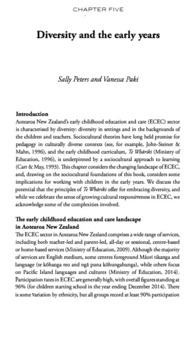 Peters, S., & Paki, V. (2015). Diversity and the early years. In A. Macfarlene, S. Macfarlene, & M. Webber (Eds.), Sociocultural Realities: Exploring New Horizons (pp. 87–99). Canterbury University Press.
Abstract
Aotearoa New Zealand's early childhood education and care (ECEC) sector is characterised by diversity: diversity in settings and in the backgrounds of the children and teachers. Sociocultural theories have long held promise for pedagogy in culturally diverse contexts (see, for example, John-Steiner & Mahn, 1996), and the early childhood curriculum, Te Whiiriki (Ministry of Education, 1996), is underpinned by a sociocultural approach to learning (Carr & May, 1993). This chapter considers the changing landscape of ECEC, and, drawing on the sociocultural foundations of this book, considers some implications for working with children in the early years. We discuss the potential that the principles of Te Whiiriki offer for embracing diversity, and while we celebrate the sense of growing cultural responsiveness in ECEC, we acknowledge some of the complexities involved.
Date
2015
Type
Publisher
Canterbury University Press
Rights
© 2015 copyright with the authors