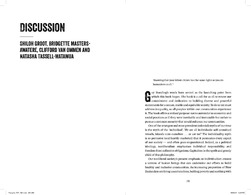 Groot, S. A. M., Masters-Awatere, B., van Ommen, C., & Tassell-Matamua, N. (2017). Discussion. In S. A. M. Groot, C. van Ommen, B. Masters-Awatere, & N. Tassell-Matamua (Eds.), Precarity: Uncertain, Insecure and Unequal Lives in Aotearoa New Zealand (pp. 254–257). Massey University Press.
Abstract
Guy standing's words have served as the launching point from which this book began. The book is a call for us all to renew our commitment and dedication to building diverse and powerful movements for a secure, stable and equitable society. To do so we must address inequality, as all peoples within our communities experience it. The book offers a revived purpose: not to surrender to economic and social practices as if they were inevitable and immutable but rather to pursue a common security that would enhance our communities.
Date
2017
Type
Publisher
Massey University Press
Rights
© 2017 copyright with authors.
Collections