eReader interface design for page-turning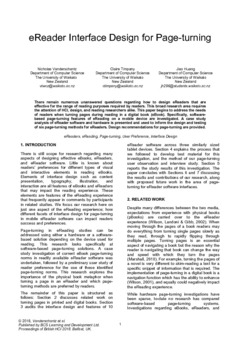 Vanderschantz, N., Timpany, C., & Huang, J. (2018). eReader interface design for page-turning. In Proceedings of the 32nd International BCS Human Computer Interaction Conference (pp. 1–11). Belfast, UK: BCS Learning and Development Ltd. https://doi.org/10.14236/ewic/HCI2018.3
Abstract
There remain numerous unanswered questions regarding how to design eReaders that are effective for the range of reading purposes required by readers. This broad research area requires the attention of HCI, design, and reading researchers alike. This paper begins to address the needs of readers when turning pages during reading in a digital book (eBook). Specifically, software-based page-turning features of eReading on a mobile device are investigated. A case study analysis of eReader software and hardware is presented and used to inform the design and testing of six page-turning methods for eReaders. Design recommendations for page-turning are provided.
Date
2018
Publisher
BCS Learning and Development Ltd
Rights
© 2018 the authors. This work is licensed under a Creative Commons Attribution 4.0 Unported License.
Collections