Tuned in and hands on: Sound designers beyond technical expertise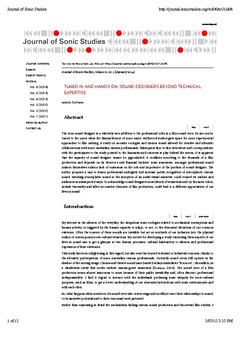 Delmotte, I. A. (2014). Tuned in and hands on: Sound designers beyond technical expertise. Journal of Sonic Studies, 6(1), 1–12.
Abstract
The term sound designer is a relatively new addition to the professional roles in a film sound crew. Its use can be traced to the 1970s when the dismantlement of some major Hollywood studios gave space for more experimental approaches to film making. A study on acoustic ecologies and cinema sound allowed for creative and altruistic collaborations with some Australian cinema professionals. Subsequent face-to-face interviews and correspondence with the participants to the study pointed to the humanity and concerns at play behind the screen. It is apparent that the capacity of sound designer cannot be pigeonholed: it oscillates according to the demands of a film production and depends on its director's and financial backers' sonic awareness. Amongst professional sound makers themselves exists a lack of consensus on the role and importance of the position of sound designer. The author proposes a way to lessen professional ambiguity and increase public recognition of atmospheric cinema sound. Invoking atmospheric sound at the inception of an audio-visual narrative could reward its makers and audiences in unsuspected ways. To acknowledge sound designers as architects of sensations and, by the same token, include viscerality and affect as creative elements of film production, could lead to a different appreciation of our lives in sound.
Date
2014
Type
Publisher
Leiden University Press (LUP)
Collections