Performance and applications of Gallium-Nitride Monolithic Microwave Integrated Circuits (GaN MMICs)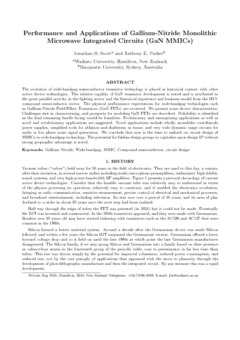 Files
Supporting presentation, 1.379Mb
Scott, J. B. & Parker, A. E. (2007). Performance and applications of Gallium-Nitride Monolithic Microwave Integrated Circuits (GaN MMICs). Proceedings of SPIE, December 5, volume 6798, 67980F, 2007. Canberra, ACT, Australia.
Abstract
The evolution of wide-bandgap semiconductor transistor technology is placed in historical context with other active device technologies. The relative rapidity of GaN transistor development is noted and is attributed to the great parallel activity in the lighting sector and the historical experience and business model from the III-V compound semiconductor sector. The physical performance expectations for wide-bandgap technologies such as Gallium-Nitride Field-E®ect Transistors (GaN FETs) are reviewed. We present some device characteristics. Challenges met in characterising, and prospects for modeling GaN FETs are described. Reliability is identified as the final remaining hurdle facing would-be foundries. Evolutionary and unsurprising applications as well as novel and revolutionary applications are suggested. Novel applications include wholly monolithic switchmode power supplies, simplified tools for ablation and diathermy in tissue, and very wide dynamic range circuits for audio or low phase noise signal generation. We conclude that now is the time to embark on circuit design of MMICs in wide-bandgap technology. The potential for fabless design groups to capitalise upon design IP without strong geopraphic advantage is noted.
Date
2007-12
Rights
©2007 COPYRIGHT SPIE--The International Society for Optical Engineering.
Collections