Lake Tarawera- Lake Tarawera restoration plan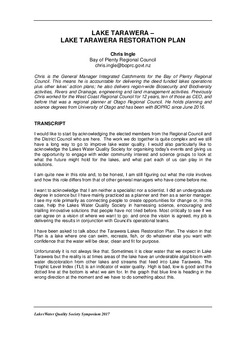 Abstract
I would like to start by acknowledging the elected members from the Regional Council and the District Council who are here. The work we do together is quite complex and we still have a long way to go to improve lake water quality. I would also particularly like to acknowledge the Lakes Water Quality Society for organising today's events and giving us the opportunity to engage with wider community interest and science groups to look at what the future might hold for the lakes, and what part each of us can play in the solutions.
Date
2017
Publisher
LakesWater Quality Society
Rights
© 2017 LakesWater Quality Society.
Collections