Complete genome sequence of a New Zealand Mycobacterium tuberculosis strain responsible for ongoing transmission over the past 30 years.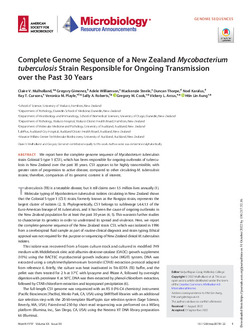 Abstract
We report here the complete genome sequence of Mycobacterium tuberculosis strain Colonial S-type 1 (CS1), which has been responsible for ongoing outbreaks of tuberculosis in New Zealand over the past 30 years. CS1 appears to be highly transmissible, with greater rates of progression to active disease, compared to other circulating M. tuberculosis strains; therefore, comparison of its genomic content is of interest.
Date
2022
Type
Rights
© 2022 Mulholland et al. This is an open-access article distributed under the terms of the Creative Commons Attribution 4.0 International license.
Collections