Online reading lists: a mixed-method analysis of the academic perspective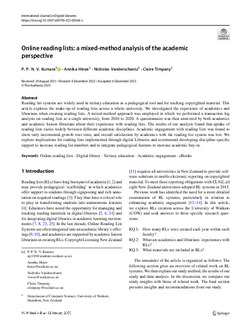 Abstract
Reading list systems are widely used in tertiary education as a pedagogical tool and for tracking copyrighted material. This article explores the make-up of reading lists across a whole university. We investigated the experience of academics and librarians when creating reading lists. A mixed-method approach was employed in which we performed a transaction log analysis on reading lists at a single university, from 2016 to 2020. A questionnaire was then answered by both academics and academic liaison librarians about their experience with reading lists. The results of our analysis found that uptake of reading lists varies widely between different academic disciplines. Academic engagement with reading lists was found to show only incremental growth over time, and overall satisfaction by academics with the reading list system was low. We explore implications for reading lists implemented through digital Libraries and recommend developing discipline-specific support to increase reading list numbers and to integrate pedagogical features to increase academic buy-in.
Date
2023
Type
Publisher
Springer Science and Business Media LLC
Rights
© 2023 The Authors. This work is licensed under a CC BY 4.0 license.
Collections