Impact of ownership structure on the level of voluntary disclosure: A study of listed family-controlled companies in Malaysia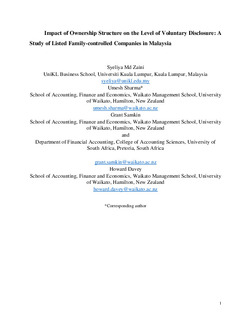 Abstract
This paper investigates the level of voluntary disclosure in the annual reports of listed companies in Malaysia by examining the impact of ownership structure. A mixed methods approach was adopted to analyse the content and level of information disclosed voluntarily in companies' annual reports. Family-controlled companies tend to voluntarily disclose information in relation to external factors and global conditions. Most family-controlled companies provide financial warnings in their disclosures. Studies that examine a voluntary disclosure practice by family-controlled companies in Malaysia are limited. As such, little is known about the effect of ownership structure on the level of voluntary disclosure.
Date
2020-01-01
Type
Publisher
Taylor and Francis Group
Rights
This is an author's accepted version of an article published in the journal: Accounting Forum. © 2019 University of South Australia.