Constraints on the IBEX ribbon's origin from Its evolution over a solar cycle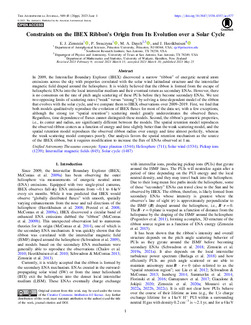 Abstract
In 2009, the Interstellar Boundary Explorer (IBEX) discovered a narrow "ribbon" of energetic neutral atom emissions across the sky with properties correlated with the solar wind latitudinal structure and the interstellar magnetic field draped around the heliosphere. It is widely believed that the ribbon is formed from the escape of heliospheric ENAs into the local interstellar medium and their eventual return as secondary ENAs. However, there is no consensus on the rate of pitch angle scattering of these PUIs before they become secondary ENAs. We test two opposing limits of scattering rates ("weak" versus "strong") by solving a time-dependent model of the ribbon that evolves with the solar cycle, and we compare them to IBEX observations over 2009-2019. First, we find that both models qualitatively reproduce the evolution of IBEX fluxes for most of the data set, with a few exceptions, although the strong (or "spatial retention") scattering model greatly underestimates the observed fluxes. Regardless, time dependence of fluxes cannot distinguish these models. Second, the ribbon's geometric properties, i.e., its center and radius, are significantly different between the models. The spatial retention model reproduces the observed ribbon centers as a function of energy and time slightly better than the weak scattering model, and the spatial retention model reproduces the observed ribbon radius over energy and time almost perfectly, whereas the weak scattering model compares poorly. Our analysis favors the spatial retention mechanism as the source of the IBEX ribbon, but it requires modification to increase the flux of ENAs observed at 1 au.
Date
2023-05-25
Type
Publisher
The American Astronomical Society
Rights
This work is licensed under a CC BY 4.0 licence. © 2023 The Author(s). Published by the American Astronomical Society.
Collections