The composition of Ehrlich's salvarsan: Resolution of a century-old debate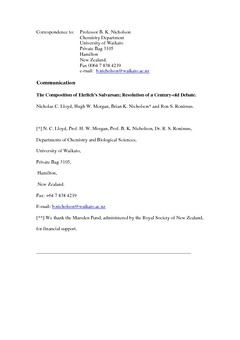 Lloyd, N.C., Morgan, H.W., Nicholson, B.K. & Ronimus, R.S. (2005). The composition of Ehrlichs Salvarsan; resolution of a century-old debate, Angew. Chem. Int. Ed., 44, 941-944.
Abstract
Ehrlich introduced in 1910 the compound 3-amino-4-hydroxyphenylarsenic(I) [Salvarsan, arsphenamine, Ehrlich 606,] as a remedy for syphilis, a disease caused by the spirochaete bacterium Treponema pallidum. His methodical search for a specific curative for an identified disease can be regarded as the introduction of targeted chemotherapy.
Date
2004-08-01
Type
Publisher
Wiley-VCH Verlag GmbH & Co. KGaA
Rights
This document is the authors version. The final definitive version is published in the journal, Angewandte Chemie International Edition, (c) 2005 Wiley-VCH Verlag GmbH & Co. KGaA, Weinheim.
Collections