Influence of human pressures on large river structure and function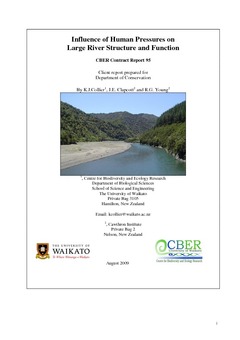 Collier, K.J., Clapcott, J.E. & Young, R.G. (2009). Influence of human pressures on large river structure and function. CBER Contract Report No. 95, client report prepared for Cawthron Institute, Nelson. Hamilton, New Zealand: Centre for Biodiversity and Ecology Research, Department of Biological Sciences, School of Science and Engineering, The University of Waikato.
Abstract
A large river study was conducted as part of the Cross Departmental Research Pool (CDRP) ecological integrity project to (i) provide an overview of the macroinvertebrate faunas of large rivers, including those in deep-water habitats, and (ii) to elucidate links between these faunas, river function and anthropogenic stressors. Eleven sites on 6th-order or 7th-order rivers were sampled; four in the South Island and seven in the North Island. We measured (i) macroinvertebrate communities colonising wood, riffles (where present), littoral habitats (<1 m deep) and deepwater habitats (>1.5 m deep) (ii) ecosystem metabolism using a single-station open-channel approach based on natural changes in dissolved oxygen concentration over a 24-hour period, and (iii) wood and cellulose breakdown. Relationships were investigated between these response variables and reach-scale assessments of habitat quality, underlying upstream and segment environmental variables provided in the Freshwater Environments of New Zealand (FWENZ) database, and anthropogenic pressure variables provided by the Waters of National Importance (WONI) database.
Date
2009
Series
Collections