Image intensifier characterization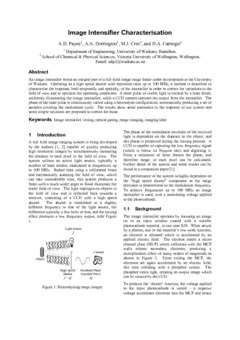 Payne, A. D., Dorrington, A. A., Cree, M. J. & Carneigie, D. A. (2006). Image intensifier characterization. In Proceeding of Image and Vision Computing New Zealand, November 27-29, 2006 (pp. 487-492).
Abstract
An image intensifier forms an integral part of a full-field image range finder under development at the University of Waikato. Operating as a high speed shutter with repetition rates up to 100 MHz, a method is described to characterise the response, both temporally and spatially, of the intensifier in order to correct for variations in the field of view and to optimise the operating conditions. A short pulse of visible light is emitted by a laser diode, uniformly illuminating the image intensifier, while a CCD camera captures the output from the intensifier. The phase of the laser pulse is continuously varied using a heterodyne configuration, automatically producing a set of samples covering the modulation cycle. The results show some anomalies in the response of our system and some simple solutions are proposed to correct for these.
Date
2006
Rights
©2006 Image and Vision Computing New Zealand. Used with permission.
Collections