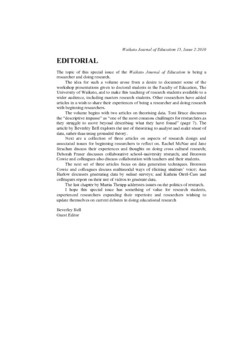 Bell, B. (2010). Editorial. Waikato Journal of Education, 15(2), 5-5.
Abstract
The article discusses various reports published within the issue including one by Beverley Bell on the use of theorizing in data analysis, the views on cross cultural research, and the collaboration between teachers and their students.
Date
2010
Type
Publisher
Faculty of Education, University of Waikato
Rights
© 2010 Waikato Journal of Education. It is posted here by permission for personal use.