Māori, Tongan and Chinese households: Medications and elder care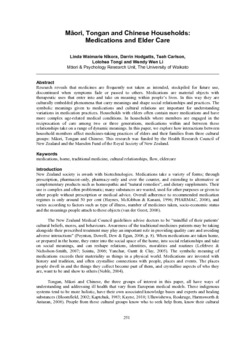 Nikora, L. W., Hodgetts, D., Carlson, T., Tongi, L., & Li, W. (2010). Māori, Tongan and Chinese households: Medications and elder care. In J. S. Te Rito & S. M. Healy (Eds.), Proceedings of the 4th International Traditional Knowledge Conference 2010 (pp. 251-258). Auckland: Ngā Pae o te Māramatanga: New Zealand's Maori Centre of Research Excellence.
Abstract
Research reveals that medicines are frequently not taken as intended, stockpiled for future use, discontinued when symptoms fade or passed to others. Medications are material objects with therapeutic uses that enter into and take on meaning within people's lives. In this way they are culturally embedded phenomena that carry meanings and shape social relationships and practices. The symbolic meanings given to medications and cultural relations are important for understanding variations in medication practices. Households with elders often contain more medications and have more complex age-related medical conditions. In households where members are engaged in the reciprocation of care among two or three generations, medications within and between these relationships take on a range of dynamic meanings. In this paper, we explore how interactions between household members affect medicines-taking practices of elders and their families from three cultural groups: Māori, Tongan and Chinese. This research was funded by the Health Research Council of New Zealand and the Marsden Fund of the Royal Society of New Zealand.
Date
2010
Publisher
Ngā Pae o te Māramatanga
Rights
© The Authors 2010
Collections