Five imperial adventures in the Waikato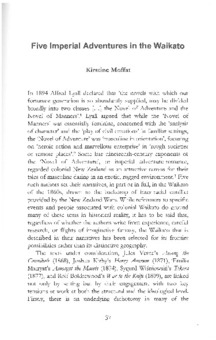 Moffat, K. (2013). Five imperial adventures in the Waikato. Journal of New Zealand Literature, 29(2), 37-65.
Abstract
Some late nineteenth-century exponents of the 'Novel of Adventure', or imperial adventure-romance, regarded colonial New Zealand as an attractive canvas for their tales of masculine daring in an exotic, rugged environment.3 Five such authors set their narratives, in part or in full, in the Waikato of the 1860s, drawn to the backdrop of inter-racial conflict provided by the New Zealand Wars. While references to specific events and people associated with colonial Waikato do ground many of these texts in historical reality, it has to be said that, regardless of whether the authors write from experience, careful research, or flights of imaginative fantasy, the Waikato that is described in their narratives has been selected for its frontier possibilities rather than its distinctive geography.
Date
2013
Type
Publisher
University of Waikato
Rights
© University of Waikato. Used with permission.
Collections