Trails of experiences: Navigating personal memories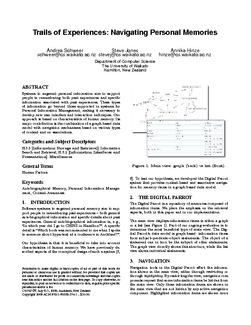 Schweer, A., Jones, S., & Hinze, A. (2009). Trails of experiences: Navigating personal memories. Proceedings of the 10th International Conference NZ Chapter of the ACM's Special Interest Group on Human-Computer Interaction - CHINZ '09 (pp. 105-106). Association for Computing Machinery.
Abstract
Systems to augment personal information aim to support people in remembering both past experiences and specific information associated with past experiences. These types of information go beyond those supported in systems for Personal Information Management, making it necessary to develop new user interface and interaction techniques. Our approach is based on characteristics of human memory. Its major contribution is the combination of a graph-based data model with navigation mechanisms based on various types of context and on associations.
Date
2009
Rights
© ACM 2009. This is the author's version of the work. It is posted here for your personal use. Not for redistribution. The definitive Version of Record was published in Proceedings of CHINZ '09.
Collections