The impact of cultural diversity on firm innovation: evidence from Dutch micro-data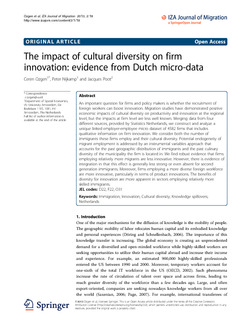 Ozgen, C., Nijkamp, P., & Poot, J. (2013). The impact of cultural diversity on firm innovation: evidence from Dutch micro-data. IZA Journal of Migration, 2(1), 18.
Abstract
An important question for firms and policy makers is whether the recruitment of foreign workers can boost innovation. Migration studies have demonstrated positive economic impacts of cultural diversity on productivity and innovation at the regional level, but the impacts at firm level are less well known. Merging data from four different sources, provided by Statistics Netherlands, we construct and analyze a unique linked employer-employee micro dataset of 4582 firms that includes qualitative information on firm innovation. We consider both the number of immigrants these firms employ and their cultural diversity. Potential endogeneity of migrant employment is addressed by an instrumental variables approach that accounts for the past geographic distribution of immigrants and the past culinary diversity of the municipality the firm is located in. We find robust evidence that firms employing relatively more migrants are less innovative. However, there is evidence of integration in that this effect is generally less strong or even absent for second generation immigrants. Moreover, firms employing a more diverse foreign workforce are more innovative, particularly in terms of product innovations. The benefits of diversity for innovation are more apparent in sectors employing relatively more skilled immigrants.
Date
2013
Type
Rights
© Ozgen et al.; licensee Springer. This is an Open Access article distributed under the terms of the Creative Commons Attribution License 2.0.