Celebrating the joy of teaching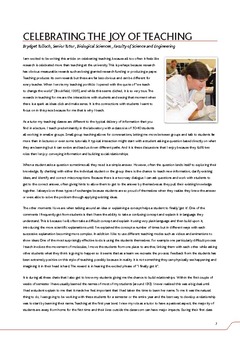 Tulloch, B. (2012). Celebrating the joy of teaching. TDU Talk, 3, 7-8.
Abstract
I am excited to be writing this article on celebrating teaching, because all too often it feels like research is celebrated more than teaching at the university. This is perhaps because research has obvious measurable rewards such as being granted research funding or producing a paper. Teaching produces its own rewards but these are far less obvious and can be different for every teacher. When I wrote my teaching portfolio I opened with the quote of "we teach to change the world" (Brookfield, 1995), and while this seems cliched, it is so very true. The rewards in teaching for me are the interactions with students and seeing that moment when there is a spark as ideas click and make sense. It is the connections with students I want to focus on in this piece because for me that is why I teach.
Date
2012
Type
Publisher
Teaching Development Unit, University of Waikato
Rights
This article has been published in the journal: TDU Talk. Used with permission.
Collections