The diffusion approximation versus the telegraph equation for modeling solar energetic particle transport with adiabatic focusing. I. isotropic pitch-angle scattering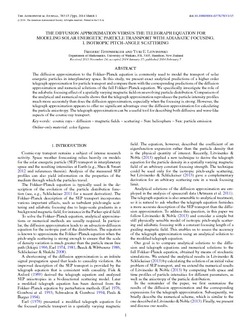 Effenberger, F., & Litvinenko, Y. E. (2014). The diffusion approximation versus the telegraph equation for modeling solar energetic particle transport with adiabatic focusing. I. isotropic pitch-angle scattering. Astrophysical Journal, 783(1). http://doi.org/10.1088/0004-637X/783/1/15
Abstract
The diffusion approximation to the Fokker-Planck equation is commonly used to model the transport of solar energetic particles in interplanetary space. In this study, we present exact analytical predictions of a higher order telegraph approximation for particle transport and compare them with the corresponding predictions of the diffusion approximation and numerical solutions of the full Fokker-Planck equation. We specifically investigate the role of the adiabatic focusing effect of a spatially varying magnetic field on an evolving particle distribution. Comparison of the analytical and numerical results shows that the telegraph approximation reproduces the particle intensity profiles much more accurately than does the diffusion approximation, especially when the focusing is strong. However, the telegraph approximation appears to offer no significant advantage over the diffusion approximation for calculating the particle anisotropy. The telegraph approximation can be a useful tool for describing both diffusive and wave-like aspects of the cosmic-ray transport.
Date
2014
Type
Publisher
Institute of Physics Publishing
Rights
© 2014 The American Astronomical Society.
Collections