Casual mobile screen sharing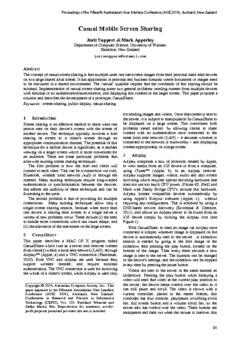 Suppers, J., & Apperley, M. (2014). Casual mobile screen sharing. In B. Wunsche & S. Marks (Eds.), Proceedings of the 15th Australasian User Interface Conference (Vol. 150, pp. 95–96). Auckland, NZ: CRPIT.
Abstract
The concept of casual screen sharing is that multiple users can cast screen images from their personal hand-held devices on to a large shared local screen. It has applications in personal and business domains where documents or images need to be discussed in a shared environment. The 'casual' qualifier implies that the overheads of this sharing should be minimal. Implementation of casual screen sharing poses two general problems: sending content from multiple devices with minimal or no authentication/authorisation, and displaying this content on the larger screen. This paper proposes a solution and describes the development of a prototype, CasualShare.
Date
2014
Rights
Copyright © 2014, Australian Computer Society, Inc.
Collections