BioFish survey of Lake Taupo, 2006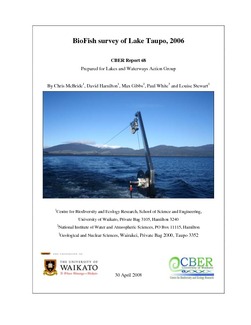 McBride, C., Hamilton, D., Gibbs, M., White, P. & Stewart, L. (2008). BioFish survey of Lake Taupo, 2006. CBER Contract Report No. 68, prepared for Lakes and Waterways Action Group. Hamilton, New Zealand: Centre for Biodiversity and Ecology Research, Department of Biological Sciences, School of Science and Engineering, The University of Waikato.
Abstract
This report provides details of a "BioFish" survey of Lake Taupo conducted in 2006. This first BioFish survey of Lake Taupo was initiated in late 2004 and continued until autumn (May) of 2005 (Hamilton et al. 2005). The 2004-5 survey involved deployment of the BioFish along a transect that commenced near the outlet of Lake Taupo, progressed south-west to 'Station A', a deep central site near the middle of the lake, and then north-west to include shallower lake bays; Whangamate Bay and Whakaipo Bay. This transect was repeated five times in 2004-5.
Date
2008
Series
Collections