University of Waikato radiocarbon dates I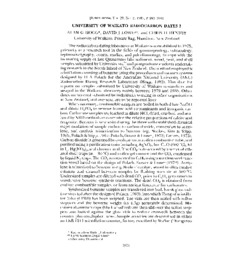 Hogg, A. G., Lowe, D. J., & Hendy, C. H. (1987). University of Waikato radiocarbon dates I. Radiocarbon, 29, 263–301.
Abstract
This date list reports on samples submitted by University of Waikato researchers and assayed in the Waikato laboratory mainly between 1979 and 1985. Most dates reported here relate to the deposition of distal airfall tephras in lakes and peats in central and northern North Island, New Zealand. Most of the tephras have been correlated with named eruptive units elsewhere using diagnostic mineralogic and chemical criteria, together with stratigraphic and age relationships.The dates listed in Section 2 were obtained on carbonaceous matter associated with the Hinuera Formation, an extensive low-angle fan of volcanogenic alluvium that was deposited in several phases in the Waikato and Hauraki basins before and during the last stale (isotope stage 2) of the last glaciation. In Section 3, the samples comprise materials associated with peat bog growth or local sedimentation that postdates the deposition of the Hinuera Formation, ie, < ca 15,000 BP. Samples in both Sections 2 and 3 are grouped into series according to geographic location, and, where appropriate, arranged stratigraphically with uppermost samples shown first.
Date
1987
Type
Publisher
University of Arizona: Radiocarbon
Rights
© 1987 The Authors
Collections