Boosting trees for cost-sensitive classifications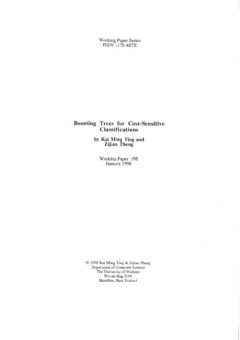 Ting, K.M. & Zheng, Z. (1998). Boosting trees for cost-sensitive classifications. (Working paper 98/1). Hamilton, New Zealand: University of Waikato, Department of Computer Science.
Abstract
This paper explores two boosting techniques for cost-sensitive tree classification in the situation where misclassification costs change very often. Ideally, one would like to have only one induction, and use the induced model for different misclassification costs. Thus, it demands robustness of the induced model against cost changes. Combining multiple trees gives robust predictions against this change. We demonstrate that ordinary boosting combined with the minimum expected cost criterion to select the prediction class is a good solution under this situation. We also introduce a variant of the ordinary boosting procedure which utilizes the cost information during training. We show that the proposed technique performs better than the ordinary boosting in terms of misclassification cost. However, this technique requires to induce a set of new trees every time the cost changes. Our empirical investigation also reveals some interesting behavior of boosting decision trees for cost-sensitive classification.
Date
1998-01
Type
Publisher
University of Waikato, Department of Computer Science