Exploring rumen microbe-derived fibre-degrading activities for improving feed digestibility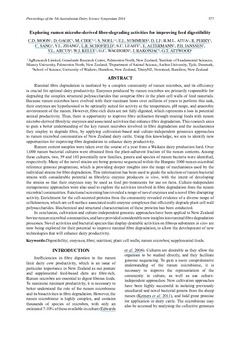 Moon, C. D., Gagic, D., Ciric, M., Noel, S., Summers, E. L., Li, D., … Attwood, G. T. (2014). Exploring rumen microbe-derived fibre-degrading activities for improving feed digestibility. In Proceedings 6th Australasian Dairy Science Symposium (pp. 377–379). Hamilton, New Zealand.
Abstract
Ruminal fibre degradation is mediated by a complex community of rumen microbes, and its efficiency is crucial for optimal dairy productivity. Enzymes produced by rumen microbes are primarily responsible for degrading the complex structural polysaccharides that comprise fibre in the plant cell walls of feed materials. Because rumen microbes have evolved with their ruminant hosts over millions of years to perform this task, their enzymes are hypothesised to be optimally suited for activity at the temperature, pH range, and anaerobic environment of the rumen. However, fibre-rich diets are not fully digested, which represents a loss in potential animal productivity. Thus, there is opportunity to improve fibre utilisation through treating feeds with rumen microbe-derived fibrolytic enzymes and associated activities that enhance fibre degradation. This research aims to gain a better understanding of the key rumen microbes involved in fibre degradation and the mechanisms they employ to degrade fibre, by applying cultivation-based and culture-independent genomics approaches to rumen microbial communities of New Zealand dairy cattle. Using this knowledge, we aim to identify new opportunities for improving fibre degradation to enhance dairy productivity. Rumen content samples were taken over the course of a year from a Waikato dairy production herd. Over 1,000 rumen bacterial cultures were obtained from the plant-adherent fraction of the rumen contents. Among these cultures, two, 59 and 103 potentially new families, genera and species of rumen bacteria were identified, respectively. Many of the novel strains are being genome sequenced within the Hungate 1000 rumen microbial reference genome programme, which is providing deeper insights into the range of mechanisms used by the individual strains for fibre degradation. This information has been used to guide the selection of rumen bacterial strains with considerable potential as fibrolytic enzyme producers in vitro, with the intent of developing the strains so that their enzymes may be used as feed pre-treatments for use on farm. Culture-independent metagenomic approaches were also used to explore the activities involved in fibre degradation from the rumen microbial communities. Functional screening has revealed a range of novel enzymes and a novel fibre disrupting activity. Enrichment for the cell-secreted proteins from the community revealed evidence of a diverse range of cellulosomes, which are cell-surface associated multi-enzyme complexes that efficiently degrade plant cell wall polysaccharides. Biochemical and structural characterisation of these proteins has been conducted. In conclusion, cultivation and culture-independent genomic approaches have been applied to New Zealand bovine rumen microbial communities, and have provided considerable new insights into ruminal fibre degradation processes. Novel activities and bacterial species that display desirable activities on fibrous substrates in vitro are now being explored for their potential to improve ruminal fibre degradation, to allow the development of new technologies that will enhance dairy productivity.
Date
2014
Rights
This article is published in the Proceedings 6th Australasian Dairy Science Symposium.
Collections