Overtraining and the complexities of coaches' decision making: Managing elite athletes on the training cusp.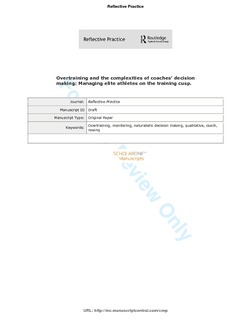 Pope, C. C., Penney, D., & Smith, T. B. (2017). Overtraining and the complexities of coaches' decision making: Managing elite athletes on the training cusp. Reflective Practice. https://doi.org/10.1080/14623943.2017.1361923
Abstract
In many elite sport performance contexts overtraining is a critical issue for coaches to understand, recognise and respond to. While the indicators and effects of overtraining have attracted considerable research interest, there are no diagnostic tests that reliably predict impending overtraining. This study explored the practices and beliefs of three highly successful professional elite rowing coaches as they predicted and managed the risk of athlete overtraining during crucial periods of intensive training. These coaches took part in a series of semi-structured interviews that explored their practices, philosophies and experiences. The research draws on sociological perspectives pertinent to coaching pedagogy and more specifically, the tenets of naturalistic decision making in exploring how the coaches define and make decisions about overtraining. In doing so it recognizes that coaching involves decision-making in complex and demanding situations. The coaches were found to monitor the fatigue of their rowers through observation, communication and measures of training pace. In general, the intuitions and cues that were used by coaches had little in common with overtraining markers or indicators that are promoted in the sport science literature. Coaches' decision-making was based largely on subjective information and processes that were influenced by a range of stressors unique to their positions. We contend that the research provides an important new perspective on coaches' definitions and management of overtraining and enables management of overtraining to be better understood as a key element of coaching pedagogy in elite performance settings. In this article we argue successful coaches have unique insights into this topical area and this is worthy of future exploration.
Date
2017
Type
Rights
This is an author's submitted version of an article published in the journal: Reflective Practice. © 2017 Informa UK Limited, trading as Taylor & Francis Group.