A complex act—Teacher educators share their perspectives of practicum assessment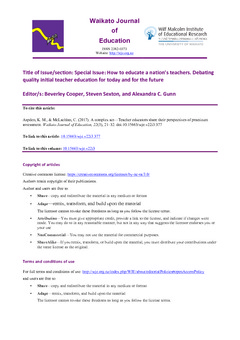 Aspden, K. M., & McLachlan, C. (2017). A complex act—Teacher educators share their perspectives of practicum assessment. Waikato Journal of Education, 22(3), 21–32. https://doi.org/10.15663/wje.v22i3.377
Abstract
Practicum visiting and the assessment of students' practicum form a significant component of the teacher educator role. Teacher educators are tasked with making judgements regarding the quality of students' teaching practice, as well as their attributes, dispositions, skills and knowledge, and ultimately their readiness to enter the teaching profession. This paper reports the findings of a doctoral study that examined the assessment of practicum in early childhood initial teacher education and, in particular, the way in which practicum assessment was enacted and experienced by early childhood student teachers, associate teachers, and teacher educators within institutional contexts. The study provides insights into how teacher educators define their role, what they look for and hope for in the assessment process, as well as the challenges faced in making authentic, appropriate and informed assessment decisions. The critical importance of professional judgment within the context of a relational pedagogy is highlighted in response to the complex variables involved in practicum assessment. Implications for future directions in policy and practice related to practicum assessment are proposed.
Date
2017
Type
Publisher
Wilf Malcolm Institute of Educational Research
Rights
This work is licensed under a Creative Commons Attribution 3.0 License.