Students' experiences of learning in a virtual classroom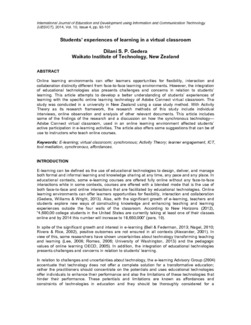 Gedera, D. S. P. (2014). Students' experiences of learning in a virtual classroom. International Journal of Education and Development Using Information and Communication Technology (IJEDICT), 10(4), 93–101.
Abstract
Online learning environments can offer learners opportunities for flexibility, interaction and collaboration distinctly different from face-to-face learning environments. However, the integration of educational technologies also presents challenges and concerns in relation to students' learning. This article attempts to develop a better understanding of students' experiences of learning with the specific online learning technology of Adobe Connect virtual classroom. The study was conducted in a university in New Zealand using a case study method. With Activity Theory as its research framework, the research methods of this study include individual interviews, online observation and analysis of other relevant documents. This article includes some of the findings of the research and a discussion on how the synchronous technology— Adobe Connect virtual classroom, used in an online learning environment affected students' active participation in e-learning activities. The article also offers some suggestions that can be of use to instructors who teach online courses.
Date
2014
Type
Rights
This article is published under a Creative Commons Attribution-NonCommercial-NoDerivs 3.0 Unported License.