Indigenizing outdoor play in New Zealand: A conversation analysis approach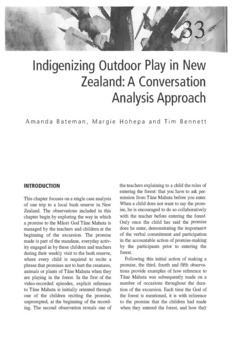 Bateman, A., Hohepa, M. K., & Bennett, T. (2017). Indigenizing outdoor play in New Zealand: A conversation analysis approach. In T. Waller, E. Arlemalm-Hagser, E. B. H. Sandseter, L. Lee-Hammond, K. Lekies, & S. Wyver (Eds.), SAGE Handbook of Outdoor Play and Learning (pp. 530–542). London, UK: Sage.
Abstract
This chapter focuses on a single case analysis of one trip to a local bush reserve in New Zealand. The observations included in this chapter begin by exploring the way in which a promise to the Maori God Tane Mahuta is managed by the teachers and children at the beginning of the excursion. The promise made is part of the mundane, everyday activity engaged in by these children and teachers during their weekly visit to the bush reserve, where every child is required to recite a phrase that promises not to hurt the creatures, animals or plants of Tane Mahuta when they are playing in the forest. In the first of the video-recorded episodes, explicit reference to Tane Mahuta is initially oriented through one of the children reciting the promise, unprompted, at the beginning of the recording. The second observation reveals one of the teachers explaining to a child the rules of entering the forest: that you have to ask permission from Tane Mahuta before you enter. When a child does not want to say the promise, he is encouraged to do so collaboratively with the teacher before entering the forest. Only once the child has said the promise does he enter, demonstrating the importance of the verbal commitment and participation in the accountable action of promise-making by the participants prior to entering the forest.
Date
2017
Type
Rights
© 2017 copyright with the authors.