Microstructure and mechanical properties of Ti-5Al-2.5Fe alloy produced by powder forging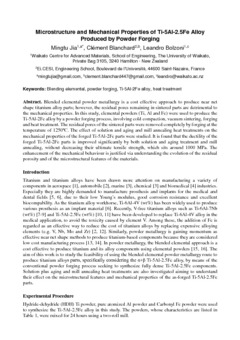 Jia, M., Blanchard, C., & Bolzoni, L. (2018). Microstructure and mechanical properties of Ti-5Al-2.5Fe alloy produced by powder forging. Key Engineering Materials, 770, 39–44. https://doi.org/10.4028/www.scientific.net/KEM.770.39
Abstract
Blended elemental powder metallurgy is a cost effective approach to produce near net shape titanium alloy parts; however, the residual pores remaining in sintered parts are detrimental to the mechanical properties. In this study, elemental powders (Ti, Al and Fe) were used to produce the Ti-5Al-2Fe alloy by a powder forging process, involving cold compaction, vacuum sintering, forging and heat treatment. The residual pores of the sintered parts were removed completely by forging at the temperature of 1250ºC. The effect of solution and aging and mill annealing heat treatments on the mechanical properties of the forged Ti-5Al-2Fe parts were studied. It is found that the ductility of the forged Ti-5Al-2Fe parts is improved significantly by both solution and aging treatment and mill annealing, without decreasing their ultimate tensile strength, which sits around 1000 MPa. The enhancement of the mechanical behaviour is justified via understanding the evolution of the residual porosity and of the microstructural features of the materials.
Date
2018
Type
Publisher
Trans Tech Publications
Rights
This is an author's accepted version of an article published in the journal: Key Engineering Materials. © 2018 Trans Tech Publications, Switzerland.
Collections