Modelling Energy Balance and Storage in the Design of Smart Microgrids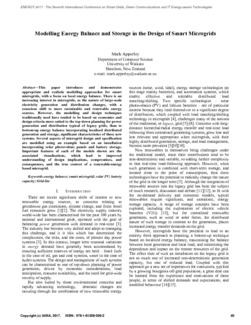 Apperley, M. (2017). Modelling Energy Balance and Storage in the Design of Smart Microgrids. In S. Fries & M. Apperley (Eds.), Proceedings of the ENERGY 2017 : The Seventh International Conference on Smart Grids, Green Communications and IT Energy-aware Technologies (pp. 40–45). Barcelona, Spain: IARIA XPS PRESS.
Abstract
This paper introduces and demonstrates appropriate and realistic modelling approaches for smart microgrids, with a focus on local energy balance. There is an increasing interest in microgrids, as the nature of large-scale electricity generation and distribution changes, with a conscious shift to more sustainable and renewable energy sources. However, the modelling and design techniques traditionally used have tended to be based on economics and design criteria more suited to the top-down planning for power generation and distribution typical of legacy grids, than to bottom-up energy balance incorporating localised distributed generation and storage, significant characteristics of these new systems. Several aspects of microgrid design and specification are modelled using an example based on an installation incorporating solar photovoltaic panels and battery storage. Important features of each of the models shown are the associated visualisations, which lead to improved understanding of design implications, compromises, and consequences, and the true context of a renewable-energy based microgrid.
Date
2017
Publisher
IARIA XPS PRESS
Collections