Testing the promise of access to justice through online courts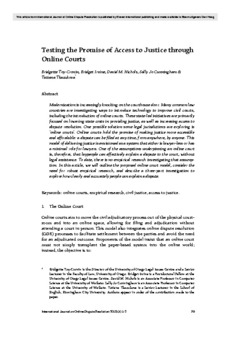 Toy-Cronin, B., Irvine, B., Nichols, D. M., Cunningham, S. J., & Tkacukova, T. (2018). Testing the promise of access to justice through online courts. International Journal of Online Dispute Resolution, 5(1-2), 39–48. https://doi.org/10.5553/ijodr/235250022018005102005
Abstract
Modernization is increasingly knocking on the courthouse door. Many common law countries are investigating ways to introduce technology to improve civil courts, including the introduction of online courts. These state-led initiatives are primarily focused on lowering state costs in providing justice, as well as increasing access to dispute resolution. One possible solution some legal jurisdictions are exploring is 'online courts'. Online courts hold the promise of making justice more accessible and affordable: a dispute can be filed at any time, from anywhere, by anyone. This model of delivering justice is envisioned as a system that either is lawyer-less or has a minimal role for lawyers. One of the assumptions underpinning an online court is, therefore, that laypeople can effectively explain a dispute to the court, without legal assistance. To date, there is no empirical research investigating that assumption. In this article, we will outline the proposed online court model, consider the need for robust empirical research, and describe a three-part investigation to explore how clearly and accurately people can explain a dispute.
Date
2018
Type
Publisher
Boom Uitgevers Den Haag
Rights
This article is published in the International Journal of Online Dispute Resolution. © International Journal of Online Dispute Resolution. Used with permission.
Collections