Gait analysis of pedestrians with the aim of detecting disabled people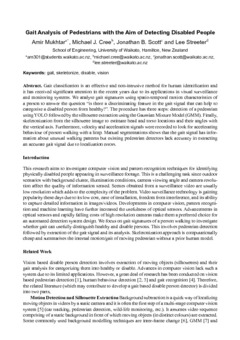 Mukhtar, A., Cree, M. J., Scott, J. B., & Streeter, L. (2018). Gait analysis of pedestrians with the aim of detecting disabled people. Applied Mechanics and Materials, 884, 105–112. https://doi.org/10.4028/www.scientific.net/AMM.884.105
Abstract
Gait classification is an effective and non-intrusive method for human identification and it has received significant attention in the recent years due to its applications in visual surveillance and monitoring systems. We analyse gait signatures using spatio-temporal motion characteristics of a person to answer the question ``is there a discriminating feature in the gait signal that can help to categorise a disabled person from healthy?''. The procedure has three steps: detection of a pedestrian using YOLO followed by the silhouette extraction using the Gaussian Mixture Model (GMM). Finally, skeletonization from the silhouette image to estimate head and torso locations and their angles with the vertical axis. Furthermore, velocity and acceleration signals were recorded to look for accelerating behaviour of person walking with a limp. Manual segmentations shows that the gait signal has information about unusual walking patterns but existing pedestrian detectors lack accuracy in extracting an accurate gait signal due to localization errors.
Date
2018
Type
Publisher
Trans Tech Publications
Rights
This is an author's accepted version of an article published in the journal: Applied Mechanics and Materials. © 2018 Trans Tech Publications.
Collections