Conceptualizing gender: Lessons from the Canadian Trans Youth Health Survey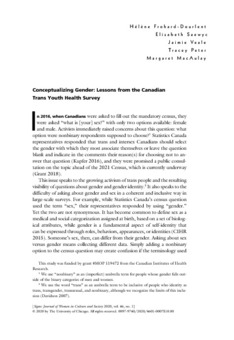 Files
Published version, 157.2Kb
Frohard-Dourlent, H., Saewyc, E., Veale, J., Peter, T., & MacAulay, M. (2020). Conceptualizing gender: Lessons from the Canadian Trans Youth Health Survey. Signs: Journal of Women in Culture and Society, 46(1), 151–176. https://doi.org/10.1086/709302
Abstract
As discussions of gender identity become more widespread, the definitions of sex and gender both fluctuate and stabilize in new ways. In this article, we draw on qualitative and quantitative data from the first Canadian Trans Youth Health Survey (CTYHS) to analyze how young trans people articulate modern definitions of gender, gender identity, and sex. The CTYHS was an anonymous online survey that had 923 trans youth participants aged 14–25. It incorporated multiple questions related to gender, soliciting feedback on each question through open-ended textboxes. Our analysis of this qualitative data suggests convergences and tensions in how trans youth conceptualize gender/sex, including the ways in which youth use the language of social construction and the language of bioessentialism to legitimize their gender(s). These different ways of articulating their lived experiences and understandings of gender and sex integrate insights from the work of critical gender scholars, feminists, and trans activists, yet they redo (or undo) gender and sex in very different ways. We conclude by considering what implications this complex web of meaning making might have for understandings of gender and sex for future research focused on trans youth, particularly in the context of large-scale surveys.
Date
2020
Type
Publisher
University of Chicago Press
Rights
© 2020 by The University of Chicago.
Collections