Consumer adoption of online food shopping in China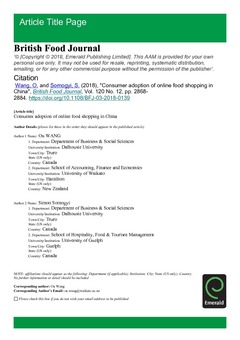 Wang, O., & Somogyi, S. (2018). Consumer adoption of online food shopping in China. British Food Journal, 120(12), 2868–2884. https://doi.org/10.1108/BFJ-03-2018-0139
Abstract
Purpose The purpose of this paper is to explore the impacts of innovation-adoption characteristics on Chinese consumers' adoption of online food shopping. It also examines consumers' online purchase preferences for specific food categories and the consumer segments shopping for food online in China. Design/methodology/approach The data were collected through a web-based survey (n=643, in three cities: Beijing, Guangzhou and Chongqing). Descriptive analysis, cluster analysis, factor analysis and structural equation modeling were employed for data analysis. Findings Participants had strong online purchase intentions toward snack and imported food, while they had weak online purchase intentions toward fresh food products such as meat, eggs, vegetables, fish and seafood. Two consumer segments were found: online-food-conservative (42 percent) and online-food-pioneer (58 percent). Factor analysis resulted in an adjusted factorial structure of the innovation-adoption characteristics, which was considered more appropriate within the context of Chinese consumers when shopping for food online. Path analysis found that Chinese consumers' attitudes and/or purchase intentions were positively linked to their perceived incentives and negatively associated with their perceived complexity for online food shopping. Originality/value This is the first study to explore consumer segments, consumption psychology (innovation-adoption characteristics) and product preferences related to online food shopping with a sample from China, the largest e-commerce country. The findings can help food producers and marketers to better understand Chinese consumers' online food shopping behaviors in order to meet the needs of consumers and have further success in this major market.
Date
2018
Type
Publisher
Emerald Group Publishing Ltd
Rights
© 2018, Emerald Publishing Limited. This AAM is provided for your own personal use only. It may not be used for resale, reprinting, systematic distribution, emailing, or for any other commercial purpose without the permission of the publisher.