From the rākau to the ngākau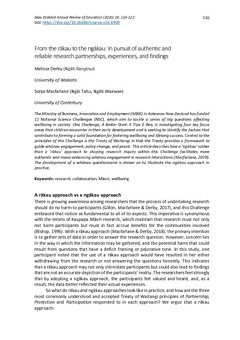 Derby, M., & Macfarlane, S. (2021). From the rākau to the ngākau. The New Zealand Annual Review of Education, 26, 116–122. https://doi.org/10.26686/nzaroe.v26.6900
Abstract
The Ministry of Business, Innovation and Employment (MBIE) in Aotearoa New Zealand has funded 11 National Science Challenges (NSC), which aim to tackle a series of big questions affecting wellbeing in society. One Challenge, A Better Start: E Tipu E Rea, is investigating four key focus areas that children encounter in their early development and is seeking to identify the factors that contribute to forming a solid foundation for fostering wellbeing and lifelong success. Central to the principles of this Challenge is the Treaty of Waitangi in that the Treaty provides a framework to guide whānau engagement, policy change, and praxis. This article describes how a 'ngākau' rather than a 'rākau' approach to shaping research inquiry within this Challenge facilitates more authentic and mana-enhancing whānau engagement in research interactions (Macfarlane, 2019). The development of a whānau questionnaire is drawn on to illustrate the ngākau approach in practice.
Date
2021
Type
Publisher
Victoria University of Wellington Library
Rights
This article is published in the New Zealand Annual Review of Education. Used with permission.