Estimating the numbers of aquatic birds affected by oil spills: pre-planning, response, and post-incident considerations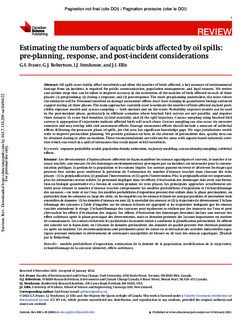 Files
Published version, 1.472Mb
Abstract
Oil spills most visibly affect waterbirds and often the number of birds affected, a key measure of environmental damage from an incident, is required for public communication, population management, and legal reasons. We review and outline steps that can be taken to improve accuracy in the estimation of the number of birds affected in each of three phases: (1) pre-planning; (2) during a response; and (3) post-response. The more pre-planning undertaken, the more robust the estimates will be. Personnel involved in damage assessment efforts must have training in quantitative biology and need support during all three phases. The main approaches currently used to estimate the number of birds affected include probability exposure models and carcass sampling — both onshore and on the water. Probability exposure models can be used in the post-incident phase, particularly in offshore scenarios where beached bird surveys are not possible, and requires three datasets: (1) at-sea bird densities; (2) bird mortality; and (3) the spill trajectory. Carcass sampling using beached bird surveys is appropriate if trajectories indicate affected birds will reach shore. Carcass sampling can also occur via on-water transects and may overlap with risk assessment efforts. Damage assessment efforts should include a measure of sublethal effects following the post-acute phase of spills, yet this area has significant knowledge gaps. We urge jurisdictions worldwide to improve pre-incident planning. We provide guidance on how, in the absence of pre-incident data, quality data can be obtained during or after an incident. These recommendations are relevant for areas with aquatic-based industrial activities which can result in a spill of substances that could injure or kill waterbirds.
Date
2022
Type
Publisher
Canadian Science Publishing
Rights
© 2022 G.S. Fraser, I.J. Stenhouse, J.I. Ellis and Her Majesty the Queen in Right of Canada. This work is licensed under a Creative Commons Attribution 4.0 International License (CC BY 4.0), which permits unrestricted use, distribution, and reproduction in any medium, provided the original author(s) and source are credited.
Collections